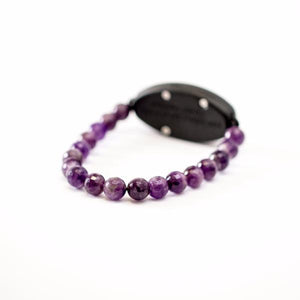 Meaning to Pause
Natural Amethyst - My Protection Pause
Regular price
$49.99
$0.00
Unit price
per
Open your spiritual and psychic centers with this power stone. Amethyst helps you focus your energy, guarding against guilt, fear, and addiction. Take time to pause with this Amethyst bracelet, and find freedom from self-deception.

Worn by healers since Ancient Egypt, Amethyst has been used to support sobriety, help the healing of nervous system disorders, and even treat insomnia. It is a powerful stone, and its effects are only magnified by recognizing its power throughout the course of the day.  *** Current stock we are creating bracelets with beautiful faceted natural Amethyst stone and polished round Natural Amethyst stone.  if you have a preference please text 415 990 9009 with your order # and preference.  
Capsule Specifications:
Length: 1.7"
Width: 0.92"
Thickness: 0.40"
If you need a custom size, no problem. Select "custom size" from the drop-down menu and let us know your size request at checkout.
Most people choose to wear the capsule on the inside of their wrist, which allows the beauty of the bracelet to be the focal point of the jewelry.
We call the Meaning to Pause bracelet 'functional jewelry' because the bracelet provides a specific function by prompting you to pause every 60 or 90 minutes with a 1-second, gentle vibration.
Made in the USA
---