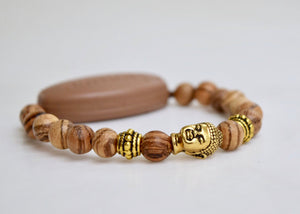 Meaning to Pause
Rare Tiger Skin Sandalwood - Authentic Tibetan Mala Prayer Beads
Regular price
$38.99
$0.00
Unit price
per
Pause for Happiness... We have created these special pause bracelets from an Authentic Tibetan Prayer Mala. Please note: Each bracelet is individually hand-strung as ordered. Orders are currently processed within 3-5 business days.  
Tiger Skin Sandalwood beads are light-colored when they are new and deepen in color with wear.  This photo shows Tibet gold spacers and Buddha head.  
Capsule Specifications:
Length: 1.7"
Width: 0.92"
Thickness: 0.40"
If you need a custom size, no problem. Please note your order at check out.
Most people choose to wear the capsule on the inside of their wrist, which allows the beauty of the bracelet to be the focal point of the jewelry.
We call the Meaning to Pause bracelet 'functional jewelry' because the bracelet provides a specific function by prompting you to pause every 60 or 90 minutes with a 1-second, gentle vibration.
Made in the USA
---